Subscribe to our feed
---
NoticeFeed (FREE)
---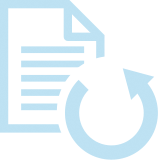 Never miss a notice. Join our free mailing list to receive a weekly email listing the new notices to creditors that have been posted on NoticeConnect. Emails are sent out every Tuesday morning.
Direct Database Access
---

Connect directly to our back-end database with our API (Application Program Interface). It's simple to set up and will allow your firm to automatically query our database, compare our notices against your files, and send alerts to your team when there's a match.