How can the
Creditor Dashboard®
help you make collections?
When someone dies, the law firm or trustee handling their estate must pay off the deceased's outstanding debts before distributing the remainder of the estate to any beneficiaries. Collecting an outstanding receivable from an estate is easy if you know when the estate is being administered and who to contact. If you miss the short window available to come forward with claims, it is very difficult to collect from the estate.
Our Creditor Dashboard uses a smart matching algorithm to scrub your list of receivables against our database of notices to creditors on a daily basis. We send you reports when there are new matches, containing all the information you need to make prompt and successful collections.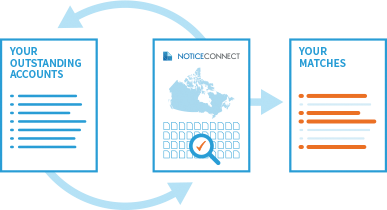 CreditorDashboard Tour